Fast Bar® is the first bar scientifically developed and tested to
not break your fast.
Now Available At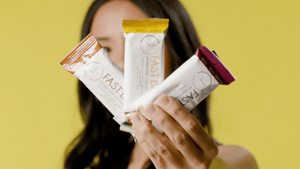 FAST BAR®, THE FIRST BAR SPECIFICALLY DESIGNED FOR INTERMITTENT FASTING
Fast Bar® has made sticking to your fasting goals more achievable. A new randomized, controlled study of 105 adults who fasted for 15 hours overnight, then had glucose and ketone levels measured every hour for four hours after eating either breakfast, a tasty Fast Bar, or just water, showed that Fast Bar did not break their fast.
Why Fast Bar?
In other words, you can eat a Fast Bar and extend your fasting window! Who wouldn't want to actually eat something as opposed to just drinking water?




Real Reviews. Real Customers.
Best "bar" I've ever purchased!

Best "bar" I've ever purchased! I love these bars! They are filling, especially early in the morning before work when I don't feel like eating a big breakfast. They always hold me over until lunch and give me energy without making me feel weighed down. I highly recommend trying one today!